Addon Karte ATMX Alpha 1.33.x
V 2.0 Mod für American Truck Simulator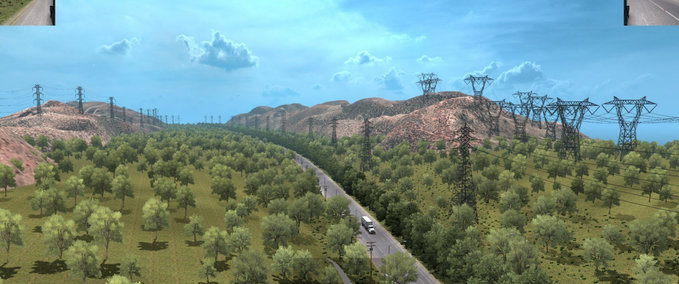 Beschreibung
ITS A FICTIONAL MAP, with new roads, city names, etc etc etc...
25 cities/regions in this project.
You can combine with other maps like C2C, Canadream, Tonopah, Viva Mexico, Mexico Extremo, Messimap, and several addon maps. If you can combine with all, put the mod between Viva Mexico and C2C.
REQUIRES ALL DLC MAPS.
0.1
Eureka Road to Fabiola Montserrat (Via Alta T.)
Created Fabiola Montserrat
0.2
Fixed Kenworth in Fabiola Montserrat
Created some roads.
Created Axel Nahum Salgado, San Fernando and Acatlan
Fixed some details in terrains
Credits
Modell: Alta Tension MX
Textur: Alta Tension MX
Script: Alta Tension MX
Idee / Konzept: Alta Tension MX
Tester: Alta Tension MX
Sonstige: Alta Tension MX
Änderungen
02. Dezember, 21:52 Uhr

Version 2.0

[ATS] ATMX EXPANSION V2.0 (1.36.X)

New and last version of the Fictional MAP ATMX (or Mapa del Tio Alta, whatever xD )for American Truck Simulator 1.36.
Requires MEGA RESOURCES 2.1.4 (or 2.1.5 if you have Sierra Nevada) From Eblem Torres/Raul Martinez and DLC Maps (OR, NM, WA and UT) to work.

The Pack contain:
ATMX Base (Map Base with 90 towns to play)
ATMX Mountain Roads (Map created by Buggernuts in ATS 1.30, but i separated from base map and put in a separate sector, connect in atmx via ferry)
ATMX Bus (Bus works in the ATMX and Mountain Roads) (Optional)
ATMXDBMX (Addon for the ATMX + Mexico + Centrales DBMX (Bus Stops))
VMATMX (Viva Mexico - ATMX Ferry)

UPDATE 2.0
a) ERASED all Anime References from the traffic bus and trailers (Only in the 2 billboards because the mascot of the ATMX "Fabmontse")
b) Make 4 secret roads.
c) Up to 9X towns from 52 in the 1.0 version
d) Updated the MOUNTAIN ROADS from Bugg3rnuts to 1.36 and adding as addon for the atmx.
c) Added a Bus Addon (prefab by Tio MagoDBMX) to use the passengers contracts in the ATMX and MR. (Optional)
e) The traffic contain real mexican logistics companies and in the bus the skins have a real bus lines, and the intense of traffic down.

19. Juli, 01:52 Uhr

Version 1.1 + ATS DLCs

ATMX FINAL (+ ATS DLCs) V1.1 1.35.X

Atmx Version 1.1 Final 1.35

* Needs Mega Resources 2.1.3 From Mexico Extremo And All Dlc Maps *

Atmx Map Its A Fictional Map Located In The Usa West, You Can Enter To This Map In Two Modes:
1.- From Eureka
2.- Ferry Via Port Angeles

You Can Combine With Many Maps In Ats Like Canadream, Coast To Coast, Viva Mexico, Mexico Extremo, Mexssimap, Radiator Springs, Montana Expansion And More.

Credits:
Atmx Map Base: Tio Alta Tensionmx
Mega Resources: Team Mexico
Atmx Traffic Bus And Trailers: Vanessa Pashmina (Rip) And Shaneke Game.

If You Gift Me Some Donation, Are Welcome And Thanks For That To My Paypal: Https://Www.Paypal.Me/Altatensionmx

MAP: https://sharemods.com/w8sgvci3m7wf/ATMX_VER_FINAL_1.1.rar.html

ATS DLCs: https://sharemods.com/u1ae5jbx5yi4/DLCATS.rar.html

MEGA RESOURCES: https://sharemods.com/udiea2netn3b/Mega_Resources_v2_1_3.scs.html

14. Juli, 03:30 Uhr

Version 1.0

ATMX Map v1.0 FINAL 1.35.x

[ATMX VERSION 1.0 FINAL FOR ATS 1.35]

****NEEDS MEGA RESOURCES 2.1.3 FROM MEXICO EXTREMO AND ALL DLC MAPS****

ATMX MAP ITS A FICTIONAL MAP LOCATED IN THE USA WEST, YOU CAN ENTER TO THIS MAP IN TWO MODES:

1.- FROM EUREKA
2.- FERRY VIA PORT ANGELES

YOU CAN COMBINE WITH MANY MAPS IN ATS LIKE CANADREAM, COAST TO COAST, VIVA MEXICO, MEXICO EXTREMO, MEXSSIMAP, RADIATOR SPRINGS, MONTANA EXPANSION AND MORE.

MAP: https://sharemods.com/s0onk0zwa980/ATMX_VER_FINAL.rar.html
MEGA RESOURCES 2.1.3: https://sharemods.com/udiea2netn3b/Mega_Resources_v2_1_3.scs.html

25. Juni, 02:02 Uhr

Version 0.7

ATMX V0.7 BASIC EDITION 1.35.X

Español:
Lanzamos la actualizacion del ATMX 0.7 Basico, para American Truck Simulator 1.35, con soporte para DirectX 11 / DirectX 9.
Requiere Washington, Oregon y New Mexico y Mega Resources 2.1.3 para funcionar. Se entra por Eureka.

English:
Today im releasing ATMX 0.7 Basic Edition for American Truck Simulator 1.35, with support DX11 and DX9.
Requires DLC Washington / Oregon / New Mexico and the Mega Resources 2.1.3 (From Mexico Extremo) to work., You can enter to the ATMX via Eureka.

You can combine with Other maps Like Canadream, Coast to Coast and Mexico.
Puedes combinar con otros mapas como Canadream, C2C y Mexico.

LINK 1: BASE
https://sharemods.com/pipgai1nk1z3/atmx07.rar.html

LINK 2: MEGA RESOURCES 2.1.3
https://sharemods.com/udiea2netn3b/Mega_Resources_v2_1_3.scs.html

05. April, 18:37 Uhr

Version 0.55

[ATS] ATMX Map v0.55 1.34.x

[ATMX MAP VERSION 0.55]

LOG DE ACTUALIZACION: (ESPAÑOL)

1.- SE ELIMINA BARRERA EN FABIOLA MONTSERRAT EN UNA COMPAÑIA Y EL GARAGE SE CORRIGE DEBIDO A QUE SE ATORABA EL REMOLQUE
2.- EN AXEL NAHUM SALGADO, SE ELIMINA UNA BARRERA EN LA COMPAÑIA DE GRANJA
3.- SE CORRIGE EL ERROR FATAL DEL LETRERO EN LA VIA A VALLE DE HUGOCES, QUE PEGABA LOS CAMIONES
4.- (FERRY) SE ELIMINAN LAS BARRERAS DEL FERRY CON VIVA MEXICO
5.- SE REGALA EL POBLADO NUEVO "EL TEPENENE"
6.- EL MOD DE TRAFICO TENIA ERRORES NO MUY GRAVES PERO YA FUERON REPARADOS.
7.- BUGS VISUALES REPARADOS

[UPDATE LOG] ENGLISH:

1.- DELETED INVISIBLE WALL IN FABIOLA MONTSERRAT (ONE COMPANY, AND GARAGE) AND GARAGE HEIGHT FIXED BECAUSE TRAILER GOT STUCK
2.- IN AXEL NAHUM SALGADO, DELETED SOME INVISIBLE WALLS IN COMPANIES
3.- IN THE VALLE DE HUGOCES-AXEL SALGADO ROAD, FIXED THE ROAD INDICATORS, AND CANT PUNCH IN YOUR FACE ANYMORE Xd
4.- (FERRY) INVISIBLE WALLS DELETED, AND CAN GO TO VIVA MEXICO MAP.
5.- NEW VILLAGE *** EL TEPENENE ***
6.- THE TRAFFIC MOD MANY ISSUES ARE FIXED.
7.- MANY VISUAL BUGS FIXED

THANKS FOR YOU SUPPORT.
WANT TO GIVE ME A BEER? —> https://www.paypal.me/altatensionmx

Credits:
Alta Tension MX

27. März, 00:58 Uhr

Version 0.5

[ATS] ATMX Map v0.5 1.34.x

ATMX Map Updated for ATS to 0.5, Requieres Mega Resources (C2C) to work.
Added 8 Villages, fix several bugs and make a connector with Viva Mexico Map.
Its a Fictional Map Mod, you can test accessing via Eureka, or if you were in Mexico Maps, Via Ferry Los Mochis/La Paz.
Check the Videotutorial for installation: (Solo, With Mexico, Canadream and C2C)

Link1: Map Pack

https://sharemods.com/asfaqeot5m0y/ATMXPACK.rar.html

Link2: Mega Resources

https://sharemods.com/hlusg9c7vopw/Mega_Resources_v2_0_9_C2C.scs.html

Credits:
Tio Alta Tension (ATMX)
Hugoces/Eblem/RaulMtz (Team Mexico Mega Resources)

18. Februar, 20:56 Uhr

Version 0.3

ATMX Map Addon v0.3 [1.34.x]

Changelog 0.3
Updated to 1.34.

ATMX for ATS 1.34.
Hugoces' Mega Resources 2.0.5 to Work.
You can Access to my map from Eureka.

Link1: Map

https://sharemods.com/nt0s3adsmsu6/monse0.3.scs.html

Link2: Resources

https://sharemods.com/oo7cc0zoekg0/Mega_Resources_v2_0_5.scs.html

Credits:
Alta Tension MX

06. Februar, 00:03 Uhr

Version 0.2
Dateien
Empfehlungsrate
-/-
noch nicht genug Stimmen
Ist dieser Mod besonders empfehlenswert?
}